Get into the swing of things with 'SWARM' on Oculus April 8!
2 min read
Greensky Games invites players to take a swing at the exhilarating SWARM on Oculus Quest and Rift platforms on April 8. Players in SWARM will feel like Spider-Man with a gun in VR as they swing from platform to platform, battle cunning enemies, and are plunged into a flow-state-inducing bout of FPS action.
SWARM is vibrant, intense, and fast-paced. The title's 25 levels and 5 dynamic zones are presented with brilliant cel-shaded graphics, plunging players into colorful worlds overrun with cunning robotic enemies they'll have to outmaneuver, then blast. Paying homage to classic arcade shooters, SWARM is both relentless and rewarding, where survival requires twitch reactions and strategic thinking.
Designed with quick sessions in mind, each match in SWARM lasts 10-20 minutes allowing players to jump in as swiftly as they can swing from platforms in the game. With a globally competitive leaderboard, levels that always play out differently, and an epic skill ceiling befitting of a classic arcade game; SWARM is seriously replayable and will keep players coming back for more.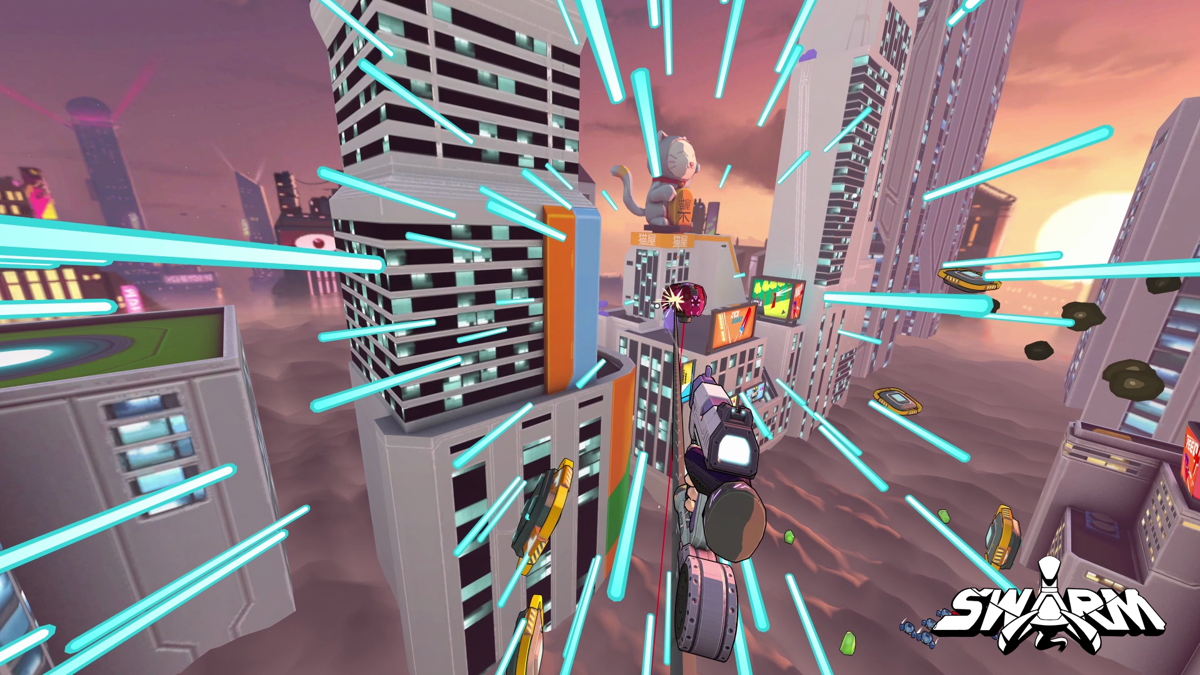 Greensky Games has gone the extra mile in SWARM, specially developing mechanics to avoid motion sickness. Throughout its development, the game went through extensive testing with both VR newcomers and veterans, successfully creating incredibly fast movement and heart-pumping action without any physical side effects. Featuring Greensky Games' original Smooth Grappling System (SGS), swinging in SWARM provides players with realistic, tactile tension while also being fluid.
SWARM will be launching on the Oculus Store, with cross-buy support for both Oculus Quest and Rift on April 8. Players eager for this exhilarating experience on Steam can look forward to an early summer release. For more information on SWARM visit the official site here.
Find out more about how SWARM was made in a Q&A with Greensky Games founder Peter Le Bek here.
Key features include:
Swing around beautiful cel-shaded worlds and feel like Spiderman, with a gun.

A modern FPS with classic arcade shooter spirit, intense, physical, flow-state inducing.

Build up momentum and swing at just the right time – then rain down death from above.

Slow down time to take aim, dodge incoming fire, and survive the deadliest of attacks.

Face off against cunning enemies which will require strategy to defeat.

Competitive global leaderboards with 25 dynamic levels spread across 5 zones.