PM Studios' 'Ikai' Will Creep You Out on March 29th
2 min read
This thriller featuring Japanese folklore will unleash later this Spring
PM Studios and Endflame are going to invade your dreams on March 29th with the release of Ikai on PC, PS5, PS4, and Nintendo Switch. Dark Japanese folklore comes to life in this psychological horror game where your only defense against the abominable demons is your ability to ward them off with mystical kanji. Before the game is released players are invited to head over to Steam and play Ikai's demo, and add the game to their wishlist if they're not too scared!
About Ikai
Embodying the soul of the classic first-person psychological horror genre with a defenseless main character incapable of attacking evil creatures through traditional means. No guns, swords, or howitzers here. Instead, Ikai explores a new sense of horror by making the player face the threats directly.
Don't faint, embrace your weaknesses and pray you can survive the mayhem you've just unleashed.
FEAR: Experience the horror in first-person by the hand of Japanese spirits, monsters, and yokai.
EXPLORATION: Wander around a feudal Shinto shrine and explore to unveil the story behind Naoko, the main character.
DRAWING: Concentrate on drawing protective seals over the strange sounds and events happening around you.
PUZZLES: Pit your wits against challenges that will try to stop you
STEALTH & RUN: Be silent, do not disturb the evil… Or just run, run away from it all, if you can.
The physical version of Ikai is also available to pre-order at select retailers which includes a sticker sheet and postcard. The physical edition is priced at $34.99 and will be released alongside the digital release on March 29th.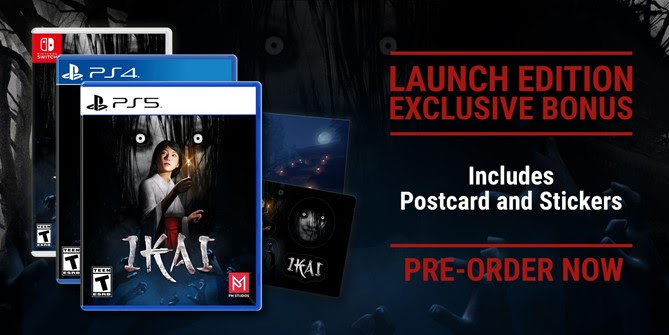 Visit the Official Website: https://endflame.com/ikai/
Social Media: Site / Facebook / Twitter / YouTube / Twitch
About Endflame
Endflame is a small indie studio of three people based in Barcelona. At Endflame, our aim is to immerse the players into a remarkable experience by bringing stories to life.
About PM Studios
Founded in 2008 and based in Los Angeles, California, and Seoul Korea, PM Studios, Inc. is an independent developer and publisher of interactive entertainment and mobile applications. More information about PM Studios and its products can be found at www.pm-studios.com.