Freedom Finger, a hand-drawn shmup / brawler hybrid starring Nolan North and John DiMaggio
1 min read
Due for launch later this year on PS4, Xbox One, PC and Mac, Freedom Finger is the brainchild of Emmy nominated director and producer Jim Dirschberger, the co-creator of Sanjay & Craig on Nickelodeon. It features voice acting by some of the industry's leading talent such as Nolan North, John DiMaggio, Sam Riegel, and Eric Bauza.
Additionally, it's got a killer soundtrack of licensed music from Red Fang, METZ, Power Trip, Com Truise, White Fence, Ty Segall, Makeup and Vanity Set, True Widow, The Radio Dept., Drab Majesty, John Maus, Vektroid, Danimal Cannon, Cleaners from Venus, and more!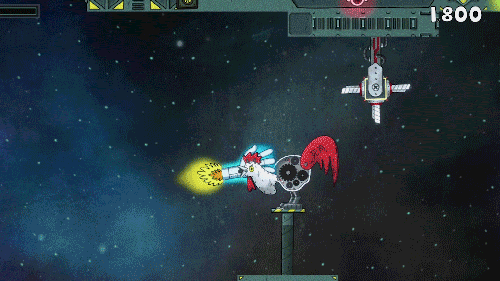 In Freedom Finger players take control of rookie space pilot, Gamma Ray, flying his bad ass, giant, fist-shaped ship and embarking on an intergalactic rescue mission to save lunar scientists who have been taken hostage by terrorists. However, players will soon discover their mission is more sinister than first thought, forcing them to make difficult decisions that determine the fate of the innocent hostages. Players can expect an over the top, satirical, and daring adventure full of laughs and sharp social commentary as the story unfolds over 36 deadly levels of shmup action.