Bus Simulator 18 Announces New Map / DLC Steam Codes Available
2 min read
Astragon Entertainment GmbH and stillalive studios announced the upcoming extension map of their critically acclaimed Bus Simulator 18 scheduled for release on Steam May 22, 2019. Once again Bus Simulator 18 is ready to take players for a relaxing drive in the countryside with the new extension map featuring two brand new city districts, interesting missions, new bus stops and many more road miles which are just waiting for you to be explored in and around Seaside Valley. Among the many new attractions: a recently opened airport, a bustling new business and tech park, and a classic European hamlet.
The first new city district of the map extension goes by the name of Kerststadt and is located south of Seaside Valley. It is not only home to the new airport but also houses the city's busy technology hub. This therefore means not only creating bus routes for travelers to and from the airport but also connecting Kerststadt University with the Ministry of Science and the local start-up scene. A night bus line for students coming back late from studying (or the pub) also needs to be established.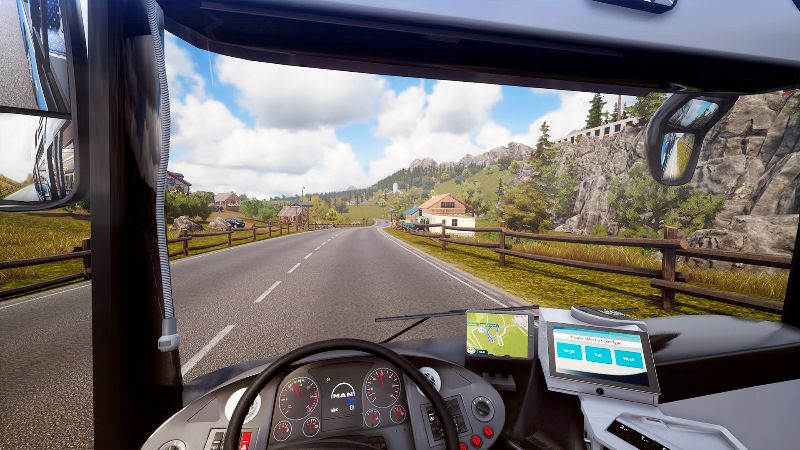 Would you rather get away from all the hustle and bustle of Kerststadt for some peace and quiet? You will find the second new district of themap extension to be a worthwhile destination: the picturesque mountain village of Sonnstein not only delights with the sight of rustic half-timbered houses but also unspoiled natural surroundings. Time to raise the tourism revenues by establishing some scenic bus routes! In addition to breathtaking panoramic views, the drives up to Sonnstein will delight bus drivers with a real challenge: serpentines might be the most efficient way to climb even the steepest of inclines, but steering a large bus through tight curves with incoming traffic will keep even the most experienced drivers on the edge of their seats.
Will you have to travel around Kerststadt and Sonnstein all on your own? Of course not! Just as in the main game, Bus Simulator 18, you will be able to discover the official map extension together with up to three friends in the game's multiplayer mode.
The Bus Simulator 18 – Official map extension will be available on Steam™ for 12.99 Euro / 15.99 USD / 11.69 GBP on May 22, 2019. Bus Simulator 18 is already available for 29.99 Euro / 34.99 USD / 26.99 GBP (RSP).